If you were to sit down and list out all the different featues a call recording system could have, it would be upwards of 100 or more. Some are obviously more useful and necessary than others, but how do you know which are which?
This ebooks shares the results of an industry survey asking that very question - Which call recording features matter most?
Download this ebook to see the results of that survey and also for an overview and deeper look inside the top 6 features, including the utility of each capability, how it's used and what aspects of each feature to look for when purchasing a recording system.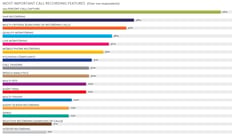 Download this ebook today!