Is your Cloud Call Recorder Leaving you Susceptible to Web Attacks?
What you need to know to protect your business from attackers
The adoption of cloud call recording brings many benefits, but it can also leave you vulnerable to attacks if you aren't careful. Are you susceptible right now? How do you know?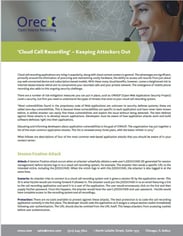 Many of today's cloud call recording systems do not have the necessary security protocols built in to thwart zero-day attacks (from vulnerabilities found in proprietary application code). One necessary protective measure, for example, is OWASP web application compliance. Is your recorder compliant?
Read this white paper to learn about the following types of common attacks to be aware of, including sample scenarios and protective measures you can take:
Session Fixation Attacks

Cross Site Request Forgery Attacks

Cross Site Scripting Attacks

Vertical and Horizontal Brute Force Attacks
If you have cloud call recording, this is a must-read.